The real Frank Blackstone is a man who was murdered by The G-Man, who later took his identity in order to fake his own death.
For Frank Blackstone as an alias to the G-Man, see here.
Biography
After being bludgeoned and dumped into the waters of gm_construct by evil business partner Richard Woods, The G-Man managed to make it to shore despite a serious head wound. There he comes across a worried man named Frank Blackstone who asks if he needs help. In rage, G-Man stabs Frank to death and smashes his face in. Swapping clothes, G-Man dumps Frank's body into the waters, which is later found and identified as his own. Now presumed dead to City 17, G-Man assumed Frank Blackstone's identity and left City 17. Upon his return to the area eighteen-months later, he continued to use Frank's name and for many more years to come. It is assumed the real Frank was buried under his real name.
Trivia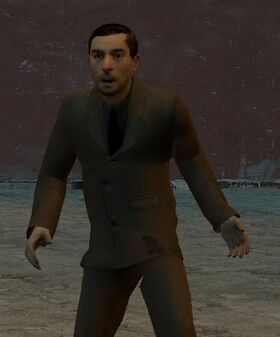 The real Frank Blackstone uses the Half-Life 2 Male_09 model, with brown suit. In his retroactive first appearance as a corpse in City 17 Street, he used a zombie model of the G-Man.
List of appearances
Gallery
Ad blocker interference detected!
Wikia is a free-to-use site that makes money from advertising. We have a modified experience for viewers using ad blockers

Wikia is not accessible if you've made further modifications. Remove the custom ad blocker rule(s) and the page will load as expected.